This book left me a wreck. I finished it at almost 1am, and this morning when I told my mom that I cried with it, I started crying. Again. I AM NOT A BOOK CRIER (usually)!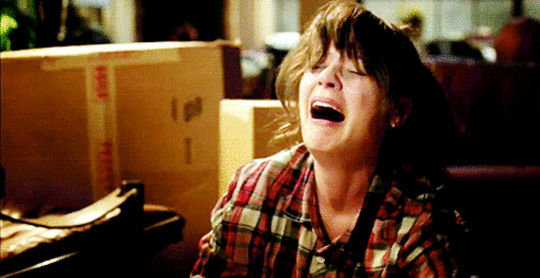 I loved Lou's character and completely related to many of her fears and things that annoyed her. I completely understood her family situation as I'm similar situations when it comes to your family, pregnant sister, and the economical situation in a household, even if in different ways. She was so relatable and down to earth, not completely ambitious or exotic, just a simple woman in a simple town. Her character began to change in subtle ways with Will, and in the end you are happy for her development, albeit one of the main motives was a heartbreaking one.
Will Traynor was absolutely amazing. I enjoyed his character to no end even if he would be super rude to Lou in many occasions, which I didn't agree upon regardless of his condition. Other than his charm, humor, grey cells, his daring attitude and caring for Lou, I liked how his situation brings to the light what being a quadriplegic means. It's not just not being able to move maybe 90%, if not all, your body, but also the pain, the diseases, the medicine cocktails, and the depression it can bring into a person and everyone around them. It wasn't pretty, and it wasn't romanticized, simply a reality with which these characters had to deal with in many ways, and I liked that realistic feel that sometimes some authors might not incorporate.
However, the romance! It wasn't from the beginning and it wasn't as developed as I thought it'd be, but it made me swoon and hate.. many things and events and the what if's. Those were the worst. Its realistic take on these accidents that change your life, and striving for more than the simple things in life, was inspiring and beautifully written.
But I cried. I cried with sobs and knots in my throat and the thought of the ending has me wanting to tear again. Happy or sad tears? I won't say much because I don't want to spoil it. I am psyched to watch the movie when it comes out later in the year, especially because I love how Emilia Clarke and Sam Claflin look perfect as Lou and Will, and it'll break my heart. Again.
I can't recommend this book enough for everyone to read. It was steady read, sweet, insightful, inspiring, thought-provoking, and heartbreaking in the most bittersweet way. I need to read After You, the sequel, to know what happens to my dear characters. Simply a wonderful read that I'll treasure dearly for the years to come. Just pick it up and you'll know what I mean.
*goes to cry in a corner*
Rating: 5 glowing stars